Miss Lynique loves teaching in Saudi Arabia.
One of our teachers in Saudi Arabia sent us a beautiful piece about her time there so far. Thank you, Lynique, we are so happy that you are loving every second! We hope you inspire more teachers to open their minds and hearts to Saudi Arabia.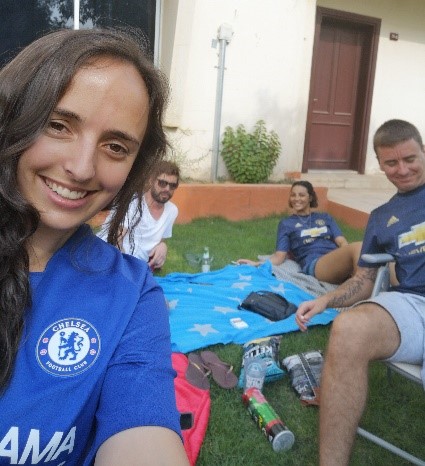 I remember very clearly when Nicole, from SA-Recruitment, called me earlier this year and wanted permission to give a school in Riyadh my CV. I was horrified, I most definitely did not want to move to Saudi Arabia as my heart had been set on Dubai or Abu Dhabi. Let's be honest- Saudi does not have the world's greatest reputation, and it does not exactly top the list of gorgeous countries and attractions. Little did I know how mistaken I was.
After multiple attempts, I managed to pack my life into two bags, and set off to the airport, brave and ready for this new adventure. It was so hard to say goodbye to my family and friends, but I had been longing for a change and more importantly, a challenge.
I have been living in Riyadh for 6 weeks now, and I have not regretted my decision, not even for a second. One thing that you cannot prepare for, is the heat. It is like nothing you have ever felt. Luckily, there are aircons everywhere and your body adapts quickly. Every person at my school has been so helpful and friendly since day one, and it has really helped my transition into the new school, and my new life.
It is a fantastic school, and I quickly felt at home. It has been fascinating to get to know colleagues and children from all over the world, and to share stories about South Africa with them. They take very good care of their staff and their professional development. I just returned from a fully paid three-day trip to Dubai, to do training for my extracurricular activity, the Duke of Edinburgh Award.
Life in Saudi is surprisingly normal. Getting around is easy and safe, I make use of Uber all the time. I often walk to the nearest store too- I have not once felt unsafe in this country. The biggest past time here is shopping…what a treat!
There is a local tour company that runs tours to the desert, and the Edge of the World, which I am going to visit soon. It is also really easy (and much cheaper) to travel from here, and I look forward to travelling as much as I can. I have made some great friends already, and we are travelling to Sri Lanka on Thursday for our mid-term break!
Many people have the idea that you cannot be seen with someone of the opposite sex if you are not married. This is not true at all, and we often go to restaurants together as a big group or walk around in malls. Ladies must wear an abaya when out and about in public, but you do not have to cover your hair. Something to get used to is everything closing for about 30 minutes during each prayer. You can stay in the stores and continue shopping, but only pay once prayers are done. Life in a compound is great! I live in a very spacious, fully equipped apartment with great amenities such a three swimming pools, a brand-new gym, tennis courts and a compound grocery store. There are also many opportunities to socialize, such as a heritage braai last month and smaller social gatherings.
If you are considering a teaching job in Saudi Arabia, you should try to be open minded, respectful to the culture and adaptable to a few changes as to how we do things in SA. Today I cringe at all the misconceptions I had of Saudi Arabia, and I hope many more teachers will apply to work here and see for themselves what a lovely place this is to live and work in.
If you would like to experience Saudi for yourself, please do not hesitate to give us a call and find out more:
+27 21 100 3145
info@sa-recruitment.com